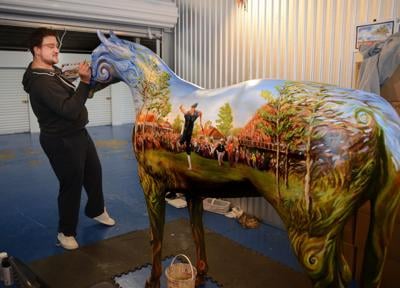 (Dan Dreyer works on one of this year's painted ponies from his temporary art studio inside the NC Self Storage facility in Aberdeen. Ted Fitzgerald/The Pilot)
Donald Ross, Peggy Kirk Bell and Payne Stewart will soon grace Broad Street in downtown Southern Pines. Their portraits, carefully painted on the side of a life-size horse sculpture, are part of the 2021 Painted Ponies Art Walk set to begin this coming week.
"It's been a fun challenge," said Dan Dreyer who was commissioned by the local Convention & Visitors Bureau (CVB) for the work titled, appropriately, "Home of American Golf." When he's not painting, Dreyer works as a fulltime "destination storyteller" and videographer for the CVB, promoting tourism for the area.
"The transitions are my favorite parts," said Dreyer, who is in talks with the Design Market on N.C. 5 to open a small studio/gallery space. "I wanted the painting to exist on the horse, not look like it was a painting stuck on the side of it."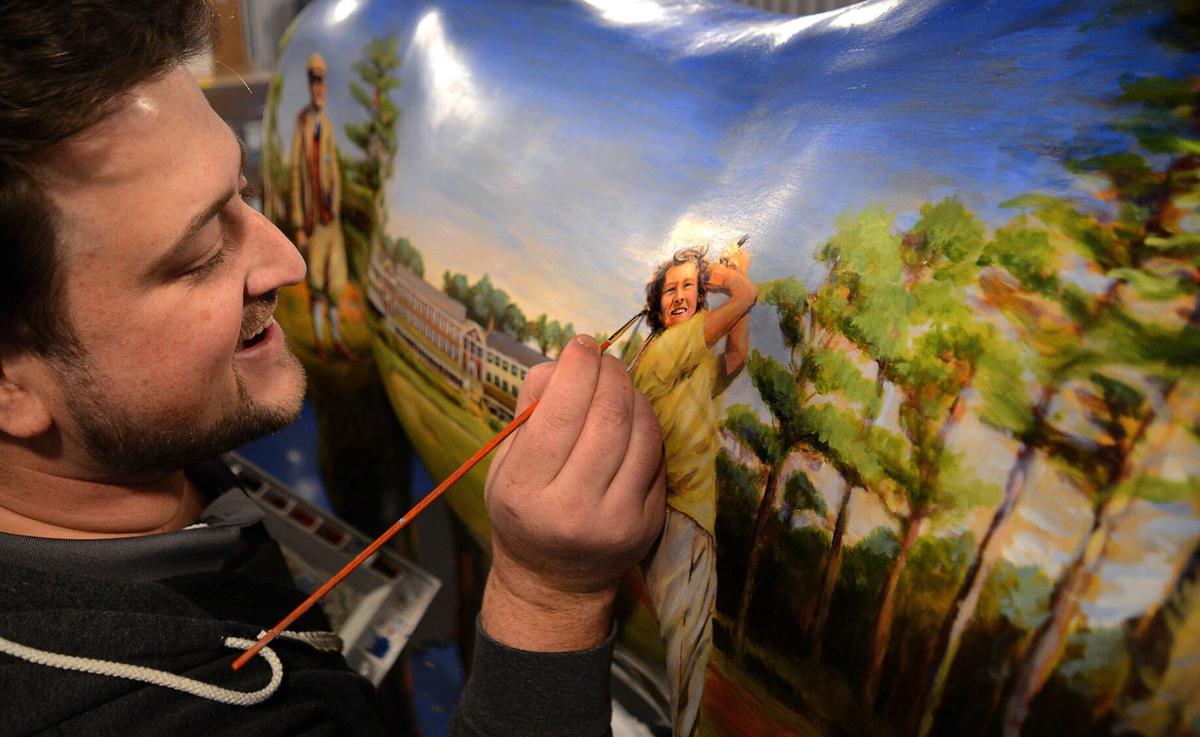 (Dan Dreyer puts the finishing touches on his portrait of the late Peggy Kirk Bell, one of several golfing legends featured on this painted pony. Ted Fitzgerald/The Pilot)


In all, 12 horse sculptures painted by different artists will be displayed in downtown Southern Pines through the end of March. The event culminates with an art auction of the ponies on April 3 to benefit the Carolina Horse Park Foundation.
Carolina Horse Park is a 315-acre, nationally recognized equine competition venue and land preserve in Hoke County supported by the CHP Foundation. Last year's Painted Ponies auction, in partnership with the town of Southern Pines, raised over $60,000 for the organization. These funds were used to clear 27 acres of newly acquired land and develop additional galloping lanes in addition to hosting more than 20 events.
This year's display includes four sculpture styles, with horses standing, grazing, running and two colts, which Rosenberg believes will be very popular with children. A special thirteenth horse posed in a rearing position will be installed at CHP.
Shop windows in downtown Southern Pines along the Art Walk will display flyers that include a QR Code for a virtual map with all 12 pony locations. The Southern Pines Visitors Center, located at 125 SE Broad St., will also supply maps and brochures for the event.
"The town has been very supportive. Because of COVID, businesses are stressed and it is important to have an outdoor activity that brings people to Southern Pines. We are asking everyone to please be socially conscious when coming downtown," Rosenberg said. "But this is also an important outreach for the equestrian community. We are educating people about the equestrian community, so this is a huge plus for everyone."
All of the artists involved in the project volunteered their time and talent. Local business sponsors include Artistic Kitchens & Baths,BB&T now Truist, BHGRE Lifestyle Property Partners, Cabin Branch Tack Shop, Chef Warren's Bistro, CVB, English Riding Supply, Everything Pines Partners Real Estate, Opulence and Duxiana, The Pilot, Pines Mabus Farm and General Contracting, NorthState Insurance, River Jack Outdoor Trading Co., Spay Neuter Vet Clinic of the Sandhills, Southern Pines Equine Assoc., Southern Whey, Twin Gates Farm, WhitLauter by Leann Parker Estate Jewelry and Audrey Wiggins.
The CVB's "Home of American Golf" horse sculpture will be installed on the sidewalk in front of The County Bookshop at 140 NW Broad Street. Other pony locations and artwork titles include "Into the Mystic" at The Mews, 280 NW Broad St.; "Secretariat" at Against the Grain, 220 NW Broad St.; "Incendiary" at the Southern Pines train station; "A Whinny in Time" at the Jefferson Inn, 150 W. New Hampshire Ave.; "Nevermore" at The Pilot, 145 W. Pennsylvania Ave.; "The Science of Miracles" at Belvedere Plaza, 138 W. Pennsylvania Ave.; "Ponies in the Pines" at Broad Street Bakery, 130 SW Broad St.; "Rooted in Horses" at Cabin Branch Tack Shop and BB&T/Truist, 232 SW Broad St.; "Freedom Isn't Free - Sgt. Reckless" at Casino Guitars, 115 NE Broad St.; "Desert Beauty" at WhitLauter, 229 NE Broad St.; and "The Sun and Her Flowers" at Eye Candy Gallery, 275 NE Broad St.